FS11 Fully Synthetic Hydraulic Fluid

Beck/Arnley Premium Fully Synthetic Hydraulic Fluid is a superior quality formulation of high performance, carefully selected, synthetic base oils. State-of-the-art additives are formulated for specific European vehicles. Specifically developed for use in hydraulically supported lever control, power steering and shock absorbers.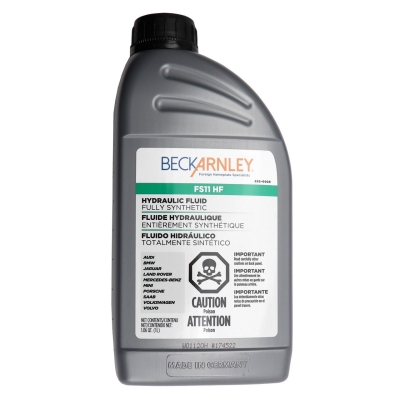 Formulated for: Audi, BMW, Jaguar, Land Rover, Mercedes-Benz, Mini, Porsche, Saab, Volkswagen, and Volvo.
Outstanding viscosity/temperature behavior providing reliable operation at both high and low temperatures
Excellent aging and oxidation stability due to the carefully selected synthetic base oils, providing excellent sealing compatibility
Produced and packaged in Germany
For specific Year, Make and Model, check ATF & Power Steering Fluid Guide

Product Data SheetSafety Data Sheet